Eastern Sierra Institute for Collaborative Education
P.O. Box 454
Bishop, CA 93515
Questions or for more information on the Eastern Sierra Watershed Project, please contact project coordinator, Maggie Riley at mriley@icsos.us, or 760-873-3262, ext. 2131
Board of Directors
DR. JOHN D. WEHAUSEN, President of the Board, is an applied population ecologist who has studied bighorn sheep populations in California for 28 years, beginning with his Ph.D. dissertation work in the Sierra Nevada. In the Owens Valley region he has carried out intensive studies of bighorn sheep populations inthe White and Inyo Mountains in addition to the Sierra Nevada. Since 1984 he has also researched bighorn sheep populations in the eastern Mojave Desert. His population studies of bighorn sheep are long-term research projects intended to factor out and compare variables driving population dynamics in different ecological settings. He began as a botanist and plant ecologist and moved into herbivore ecology through in interest in the herbivore-vegetation interface. Consequently, his studies of bighorn sheep encompass a large trophic spectrum from influences of plant communities and plant phenology on sheep nutrition to the predators that prey on the sheep and potentially influence their habitat selection. His studies also have a strong conservation orientation. Beginning in the 1970s, he has worked closely with various resource management agencies to help establish and carry out data-based conservation programs for bighorn sheep. In the past decade, Dr. Wehausen has expanded his research to include cranial morphometric studies relative to taxonomic questions of bighorn sheep. He is now also engaged in molecular population genetic studies of this animal. He founded and serves as President of the Sierra Nevada Bighorn Sheep Foundation, is an (now retired) Associate Research Scientist with the University of California's White Mountain Research Station, and lives in Inyo County. Dr. Wehausen has published his work in numerous journals and is considered the leading authority on the endangered Sierra Nevada bighorn sheep.
 LO LYNESS works as a Program Coordinator in the Department of Curriculum & Instruction, Inyo County Superintendent of Schools Office, where most of her work is providing professional development for teachers. She holds both a multiple subject teaching credential and an administrative services credential. Her background includes many years coordinating the month-long Inyo County Outdoor Science School, a residential program serving all the students in Inyo County in 5th or 6th grade, and before that, with Monterey County's Outdoor Education program as a teacher, site director and program administrator. More recently, in her current capacity, she worked with ESICE in developing and coordinating the professional development component of the Eastern Sierra Watershed Project.
DEBRA HAWK graduated from California State University, Bakersfield in 1990. In late 1999, Debra joined the California Department of Fish and Game's Region 6 Bishop Field Office, bringing to the Eastern Sierra 10 years of experience in both the public and private sector. In addition to operating her ownconsulting, Debra also spent 3 years working in the Mitigation Division for the Federal Emergency Management Agency, traveling the country in an effort to mitigate fire and flood disasters. Though Debra now lives on the other side of the Sierra working for PG&E, after years spent living and working in the Owens Valley, she still enjoys bringing a 'healthy habitats' and 'resource conservation' message to others who live in and love this place, and lovesto travel back to the best side of the Sierra for board meetings.
DR. TOM STEPHENSON is a Senior Environmental Scientist with California Department of Fish and Wildlife. He is the program leader for the Sierra Nevada Bighorn Sheep Recovery Program and the wildlife supervisor for the northern portion of CDFW's Inland Deserts Region. Prior to becoming the program leader, he was the bighorn sheep biologist for the Recovery Program. Tom is also an affiliate assistant professor with the University of Montana and Idaho State University. He received his B.S., M.S., and Ph.D. in wildlife biology from Colorado State University, Virginia Tech , and the University of Idaho, respectively. He was formerly a research wildlife biologist with the Alaska Department of Fish and Wildlife and director of the Kenai Moose Research Center, as well as an affiliate assistant professor with the University of Alaska, Fairbanks.
LEIGH PARMENTER, Retired Watershed Project Coordinator
Leigh arrived in Bishop in 1988 with a degree in Natural Resources and a teaching credential. Her first years in the community were spent working in natural resource related jobs locally and out of state for the US Forest Service, the Bureau of Land Management, California Department of Transportation, California Department of Fish and Game, and private consultants. While raising her children, Parmenter saw a need for new and different programs for the children in the community. She was instrumental in the creation of a parent participation preschool and a summer enrichment program for elementary school students in Bishop. In addition, she was an actively-involved Girl Scout troop leader and organizer of weekend camps, summer day camps and many other activities for the Girls Scouts troops of the Owens Valley. Parmenter was involved in the initial design of the Eastern Sierra Watershed Project in collaboration with the local teachers and scientists from local agencies. She says, "the excitement the program generated in the students, teachers, parents and volunteer docents is tremendous. Together we have had the amazing opportunity to observe and monitor the changes that are occurring with the re-watering of the Lower Owens River."
JAN RHOADES, Retired Teacher, Outdoor Educator, and Science Camp Coordinator.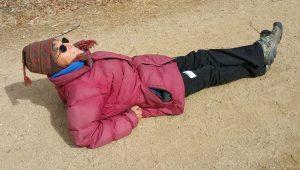 Jan may be retired, but she still volunteers for everything! She is a star docent for ESWP, the school garden program, Taking Root, and more! She is an avid cyclist and great baker – combing those two passions into her business, Bicycle Bakery – where she'll deliver baked goods to your door by bike. She has ridden her bike across the US, and in June 2018, across Nevada. Retirement is definitely not slowing her down!
MAGGIE RILEY, Outdoor Education and Science Specialist, Department of Curriculum & Instruction, Inyo County Superintendent of Schools, Current Watershed Project Coordinator
Before moving to the Eastern Sierra in 2007, Maggie worked as a classroom middle school science teacher, and before that, an outdoor science school instructor for 15 years, a seasonal Yosemite park ranger for 9 years, a field botanist for the US Forest Service and consulting firms, a Hydrologic Technician for the USFS, and more. When she moved here, she "got her foot in the outdoors" by being an Eastern Sierra Watershed Project docent for the first 4 years she lived here, and now she is pleased and proud to be coordinating this wonderful program.